Socialevents:

Apr 17th 2022
Martins farewell party

Apr 29th 2021
REjunificaton day Apr 30th

Mar 19th 2021
Martin's birthday

Feb 2nd 2021
TET 2021

Jam 14th
Walter's Birthday

Dec 17th
Christmas 2020

Oct 28-20th
Eddie's 75th
birthday.

Sep 15th
Darcy's 80th
birthday.

June 9th
Dave's Farewell
to Class

January 18th
TET Party

December 21st,2019
Christmas Party

August 31st
Lunch at
Cheap-Cheap

August 15th
"Teachers' Day"

April 14th
Vintage Coffee
House

April 2019
Martin's first
visit to
Crazy Kim's
School

Any comments?
Use

email or
+84 777 53 6063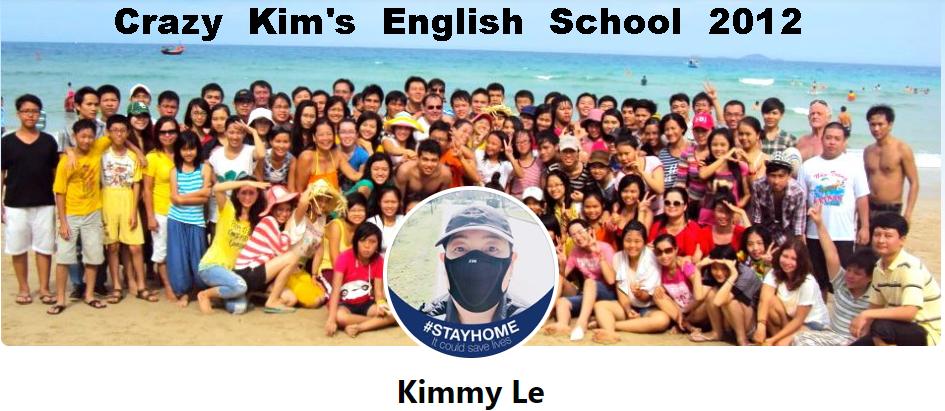 Martin is an old computer teacher that teaches English at Crazy Kim's English School in Nha Trang.
He is from Norway. His favorite restaurant in Nha Trang was CheapCheap. Now closed due to the Chinese Wuhan virus. His present favorite is Mockba restaurant.
Who is Crazy Kim? Read all about her. Kim's Facebook. And her blog.

Crazy Kim or Kim Le which is her real name, was due back in Nha Trang in October 2020. She arrived in February 2021.

Since she has a Vietnamese AND a Canadian passport, the authorities decided to treat her as a Canadian, aka a foreigner and she was denied access into the country until February 2021.

She was traveling around in Europe after her husband died during the Summer of 2020.
These pages are for Martin's students and fellow teachers.
Here you will find the lecturing notes, test results and pictures taken at various occasions since Martin started teaching in April of 2019.
Click the images for a larger picture and details.
Here is the route from Oslo, Norway to Nha Trang. A long flight with at least one stop-over.

Here the trip from Bangkok to Nha Trang. Bangkok is the normal stop-over.

Teaching related material

Odds and ends, flags, pictures of provinces, fruits, rules, lecture notes, communication, "Why study English", etc.
On April 17th 2022, Martin had his farewell party at Mockba's restaurant.

On April 29th 2021
REunification day party. In 1975, Vietnam was reunified as one nation again since 1954.

On March 19th 2021 we had Martin's birthday party at Mockba's restaurant.

Happy Martin in his travel shirt.

Mockba where it was held.

On February2nd 2021 we had our TET-party.

Here is Darcy in front of the TET wall.

The venue, Ga Bu coffee at 1 Hong Linh Street.

The whole class assembled.

On January 14th 2021 Walter turned 57.

Walter, the birthday boy turning 57 at 1 Hong Linh.

Ha & Houng V singing the birthday song.

Martin and Eddie having a chat.

On December 17th 2020, we had our Christmas party at 107 Hong Bang street, a cafe used many times before.

Most of the participants from our class.

On October 28th 2020, Eddie turned 75. Seen here with his stern teaching look.

Per October 2020, we are only 4 teachers. Walter was traveling and not present.

From left: Glory, Birthday Boy Eddie, Ms. Minh, Darcy, Ha class manager and Martin.

On June 11th 2020, a farewell party was held for Dave and Maud at Kilo Distillery & Bar restaurant.

Dave sniffing his farewell gift, a bottle of Chivas Regal.

Phuong and Martin at Kilo.

The map how to get to the place from TranVien Dong Hotel.

On June 9th 2020, a farewell party was held for Dave and Maud. It was held at Quan Ngon restaurant.

On May 26th 2020, the class manager HA turned 43 years old.

On Jan 18th, 2020, a TET party was held at Lang Nuong Zalo restaurant.




The students like to sing.

New Year's party in the classroom on Jan 7th, 2020.

December 21st, 2019, Christmas Party at 77 Le Dai Hanh Str., Nha Trang.

Saturday August 31st, 2019, lunch with class at Cheap-Cheap Vietnamese Food, Martin's favorite restaurant in Nha Trang.

Friday August 15th, "Teachers' Day".

Martin classes, 0900 and 1030, April 14th at Vintage Coffee House.

Martin's first visit to Crazy Kim's School in April 2019.